Staff

David Bvunzawabaya


High Performance Tennis Academy
- Director
ITF (International Tennis Federation) High Performance PROFESSIONAL, USPTA PROFESSIONAL
David was one of Zimbabwe's top junior & senior tennis players. He played in numerous ITF (international Tennis Federation) junior tournaments since the age of 12 and also had an opportunity to play a little bit on the ITF/ATP tour. David has been teaching tennis for the past 13 years and holds ITF high performance certification, USPTA Professional, Zimbabwe Tennis Association Professional.He has coached some of the top junior players in the state and in the nation. David also spent some time coaching Division 1 college tennis for 2 years as an assistant. He has played a big role in helping many juniors in the US and in Africa acquire full college tennis scholarships.
Cell : 832 452 9661 e-mail : david@hptennisacademy.com
Trevor Mckibbin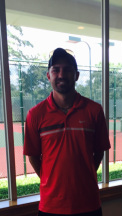 USPTA PROFESSIONAL
Northgate Director of Tennis
Played the No. 1 line for Lindale High School Varsity for 4 years and also competed in the Jr. Olympics. Prior to coming to Northgate Tennis Academy he was Assistant Director of Tennis at Rose Park Tennis Club in Abilene Texas. Following Horace Greely's advice Trevor headed west and was hired as the Head Pro and later promoted as Assistant Tennis Director at the Yakima Tennis Club in Yakima Washington. While there Trevor coached the nation's top High School girl's tennis players in Washington State. In 2012 Trevor spoke at the WIAA School For Coaches where he spoke on the topic HOW TO TEACH TECHINQUE ON TENNIS. Returning back to Texas Trevor joined the staff at The Club in the Woodlands where he was initially made the Adult Coordinator of Tennis then asked to take on the duties of Head Junior Instructor and the Director of The Quick Stat Program. In 2012 Trevor was asked to speak at the WIAA School
Cell : 903 952 3426 e-mail : @trevorngtennis@gmail.com
Quynh Tran


USPTA PROFESSIONAL
ZAT Academy - Assistant Director
Quynh also known as coach " Ro " been teaching for the past 5 years. His goal is to get the USPTA Master Professional in the next year or two. Coach Ro has been the Memorial Northwest Summer Olympics camp director for the past 2 years. He was the varsity team captain his senior year at Westfield High School and won lots of titles for his school in singles & doubles. After graduating Quynh played for Lone Star North Harris for a semester and is also currently studying engineering.
Cell : 832 253 2389 e-mail : coachro@hptennisacademy.com
Keith Benson

Certified and Licensed Athletic Trainer
Certified Strength and Conditioning Specialist
USAW Sports Performance Coach
Titleist Performance Institute Certified Golf Fitness Instructor
Keith Benson earned a bachelor's of science degree in education from The University of Akron, Ohio, majoring in Athletic Training for Sports Medicine. He is a Certified and Licensed Athletic Trainer, a Certified Strength and Conditioning Specialist (ATC, LAT, CSCS) and is certified by USA Weightlifting as a Sports Performance Coach. These certifications require at least a bachelor's degree, a variety of college-level courses in anatomy, exercise physiology and biomechanics and continuing education experience. The CSCS and USAW Sports Performance Coach are primarily employed in sports settings to direct training for sports performance. The ATC and LAT are employed in team and clinical settings for sports injury and surgery management. This makes Keith uniquely qualified to address human performance from a very broad perspective and with the depth of a medical background.
For more information visit his website here
Lessons
We offer group and private lessons for adults, league teams and juniors. If interested contact us by email at
info@hptenniscademy.com